Winter Sports
St. Pius X Golden Lions
Swimming & Diving News
Bentz '14 on No. 1 Ranked Swim Relay at UGA

January 21st, 2015
Georgia's No. 1 ranked 400-meter freestyle relay time manifests through trust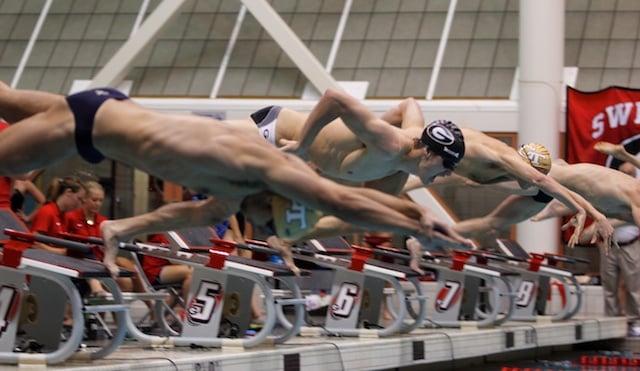 Posted: Tuesday, January 13, 2015 12:00 pm | Updated: 6:54 pm, Thu Jan 15, 2015.
Jackie Kinney
To make the swimming world relatable to the general public, there are a few prime tactics one can take: mention Michael Phelps, show a picture of Ryan Lochte or mention Michael Phelps.
So, take a moment to picture the most decorated Olympian in history, in 2008 in Bejiing, Michael Phelps, with his 6-foot-7 wingspan, raise his arms up in a burst of passion, every muscle bulging in his body while he stands on the pool deck.
This hysteria, this buzz, this commotion in Phelps is the result of a relay that won him a gold medal that was made entirely possible by the dependence of three other teammates: Aaron Peirsol, Brendan Hansen and Jason Leza
Whether the relay is at the Bejiing Olympics or Gabrielsen Natatorium, a relay remains a daunting combination of pressure, camaraderie, and skill. This is a recipe that has been mastered by Georgia's Gunnar Bentz, Nicolas Fink, Michael Trice and Matias Koski.
On paper, Georgia's 400-meter freestyle relay team etched the fastest time in the NCAA this season at the Georgia Fall Invitational this December, followed by the University of Texas and Auburn.
As the last event in a long day of races, each swimmer in the 400 freestyle relay races four laps across the pool. Each athlete must anxiously wait for the other to return to the starting blocks, making their trust, patience and concentration imperative.
For Georgia's fab four, this takes under 3 minutes -- 2:51.87 to be exact -- a grand total of 172 seconds.
Just a casual walk in the park, right?
To understand the success of the Georgia 400 freestyle relay, it helps to break it down: four swimmers, four talents, four roles.
First, the youngest, Bentz, the freshman from Atlanta, has primarily taken on the starting role, as he and his teammates have found that his starting times are much quicker than his relay times. For Bentz, his relay starts come down to trust.
"When [a teammate is] coming in, I don't want to false start," Bentz said. "I'm kind of hesitant. Trusting that he's going to touch as quickly as he can is big. Knowing his stroke and knowing he's not going to swoop up and take another stroke is big, so you have to trust the guy coming in to you."
As the freshmen in a sea of upperclassmen, Bentz shares his experience with each upperclassmen, a group he has become familiar with.
In particular, he has shared the pool with Koski for years, a silent force, who was on his club team in high school.
"[Koski] is really good at focusing; he's the type that doesn't really talk much before a race because he's in the zone," Bentz said.
According to Fink, there is not one swimmer who handles the pressure better than the others, due to years of high school experience being the "bigger fish in a smaller pond." Out of the four, however, one stands out in the heat.
"Trice is really good at getting really pumped and ready; that's why he usually goes last," Bentz said about his teammate. "He's the fastest sprinter; he's the one that's really good under pressure."
Bentz's final comment focused around Fink, a senior and team captain who holds a special place, with experience and intensity, on the relay.
"Nic is the oldest guy, he's the senior, so he always brings us together and gets us going," Bentz said.
With such a highly decorated group, one can imagine toxic competition within the relay. Not a chance. The swimmers, and not just Bentz, preached an incredibly high opinion of each other.
"I trust anyone to anchor the relay coming home, I trust anyone to lead it off," Fink said. "I think the four of us are experienced in that way, although some of us are more experienced in the college setting, we're all pretty trained in swimming.
In 2008, Phelps shared the magic of the relay with the public in the Bejiing Olympics. This season, the Georgia swimmers take part in the same thrill in their No. 1 nationally ranked 400 freestyle relay.
To see Fink throw up his arms like Phelps, or Bentz take the lead in a start, swimming has graced their fans with the relay—an event that might even make Koski break a sweat.
Original Article: http://www.redandblack.com/sports/georgia-s-no-ranked--meter-freestyle-relay-time-manifests/article_73ca50fe-9b41-11e4-a9a4-e37fb6216f49.html